ABOUT US
"A man who works with his hands is a laborer; a man who works with his hands and his brain is a craftsman; but a man who works with his hands and his brain and his heart is an artist."
~ Louis Nizer
You Can't Have One Without the Other
---
The real magic happens when the frame and art coexist harmoniously together. We're excited to announce the evolution of Masterpiece Framing into Masterpiece Framing & Imaging.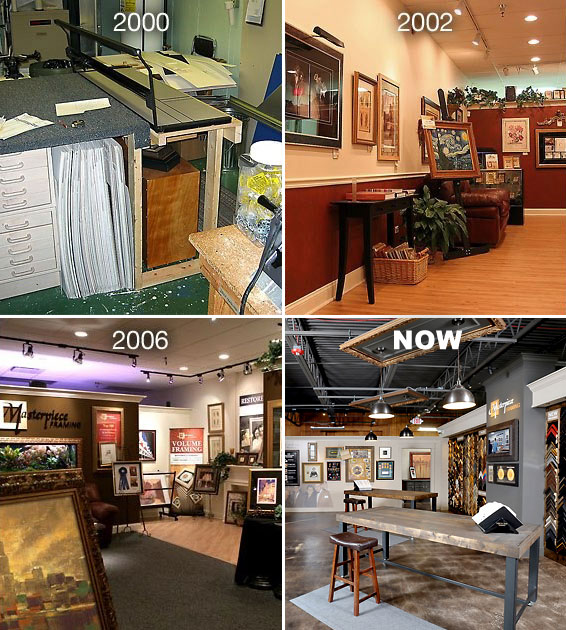 Founded in 2002, Masterpiece Framing's primary focus was custom picture framing. Throughout our journey, we've framed thousands of pictures, photos, three-dimensional objects, family heirlooms, sports jerseys, certificates, mirrors and a vast array of other items and artwork. We learned a thing or two along the way about preserving artwork and honoring our clients' memories and most precious keepsakes. We were all about the "frame".
Years passed and we honed our craft, realizing that our capabilities were not just limited to four sticks of wood surrounding a piece of art. We developed our skills and imagination to help clients create their own artwork. It's not just about the exterior casement, it's about what's inside. The frame and the image have to coexist harmoniously as one. We believe the frame is just as much a part of the artwork, as the artwork is a part of the frame. When done properly, the boundary between frame and art should disappear. It should blur into one cohesive Masterpiece.
After reaching this epiphany, we expanded our line of services. We introduced digital printing, photo restoration and graphic design into the mix of Masterpiece offerings. Our abilities grew and we now help facilitate the creation of images for customers.
This brand change became apparent as we started to promote the new services through our brick-and-mortar gallery and online website, but something didn't feel right about our name. It didn't convey the dualistic aspect of what our craft had become. That's why we made the decision to change our name to Masterpiece Framing & Imaging.
We'll help you create your own Masterpiece, and then we'll frame it and preserve it to last your lifetime and into future generations. It's important that your legacy and memories live on.
What's in the new logo?

Playing off the theme of union between frame and art, we wanted to design a new logo that captures both ends of the spectrum. A shape that appears constantly throughout our day is the chevron. We literally have thousands of chevrons adorning the walls of the Masterpiece gallery.
At first glance the gold portion of our new logo represents two sides of a frame. Upon deeper introspection, the logo reveals a pyramid as a secondary, inverse image. To us, the pyramid represents the journey, growth and evolution of Masterpiece. It brings us back to our roots and reminds us of the initial struggles and hardships of launching a new business, finding customers and the everyday commitment to running a business. In the beginning you have to play the role of janitor while also trying to be president. It's a lot to juggle! The levels of the pyramid are layered on top of each other forming the foundation for a strong company. You can't skip a level if you want to build a solid business.
As we unveil our new name and brand, it signifies that our pyramid is built. We've come a long way since 2002 and are now ready to turn on and activate our creation. This flip-of-the-switch is symbolized by the light beaming out of the pyramid capstone. We haven't reached the top, but we're now operating from a higher perspective than when our company began.
A Big THANK YOU!
We at Masterpiece Framing & Imaging realize that we would not exist without the support from our clients and customers… many of whom have become close friends and family. Thank you to everyone who has a Masterpiece on display in their home or office. We appreciate YOU!!!
Sincerely,
The Masterpiece Team